Deliver, track and manage NDIS & OOHC services easily.
CTARS is a cloud-based client management system that saves time and makes it easier for care providers to deliver services.
Manage your clients from one easy-to-use dashboard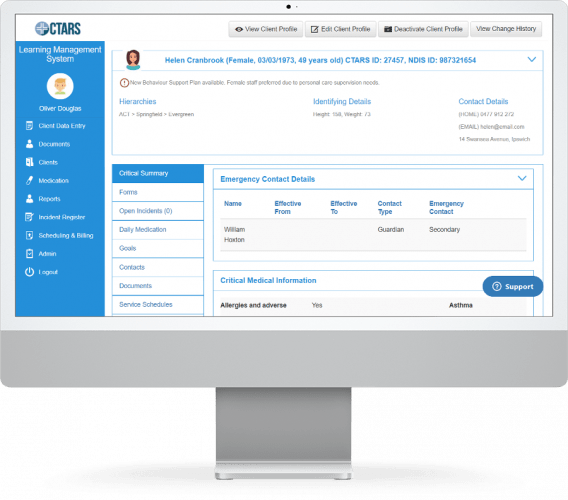 CTARS makes it easy to manage care for:

Disability services
Monitor the needs of your clients and track their NDIS budget. Help participants reach their goals, and generate mandatory reports easily. Learn more.

Out-of-home care
Manage the well-being of children in respite, interim or long-term care easily. Stay compliant with Department of Communities and Justice regulations and track incidents. Learn more.
CTARS is a paperless client management system tailored for individual NDIS and children's services providers.
Personal client budget management, scheduling, billing and invoicing

Day-to-day activity logging, client outcomes, goals tracking

Incident management and reporting

Roles and permissions configurable to only those selected

Real time alerts and notifications

Custom reporting, form builder and document management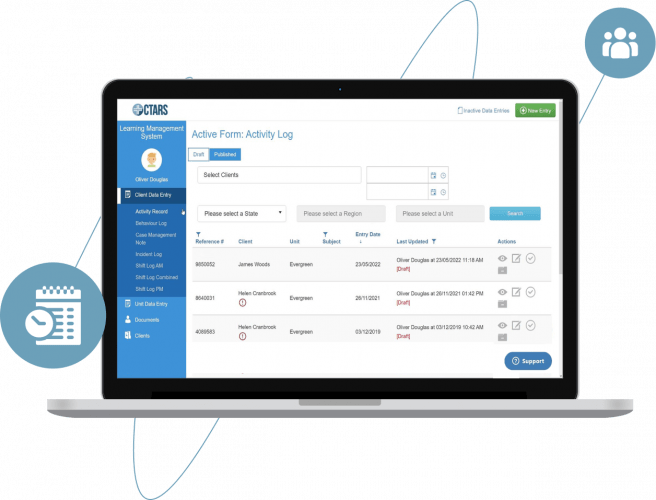 Industry-Leading Security
Whether documentation, NDIS budgets or anything else, rest assured CTARS invests heavily in delivering a confidential, secure platform for your data.

ISO Accredited
Complying with the guidelines of ISO 27002 and ISO 27001, CTARS ensures high organisational information security standards and management practices.

Two Factor Authentication
We have enabled a two-factor authentication process beyond our secure login and password framework to provide an added layer of protection when users log into the system.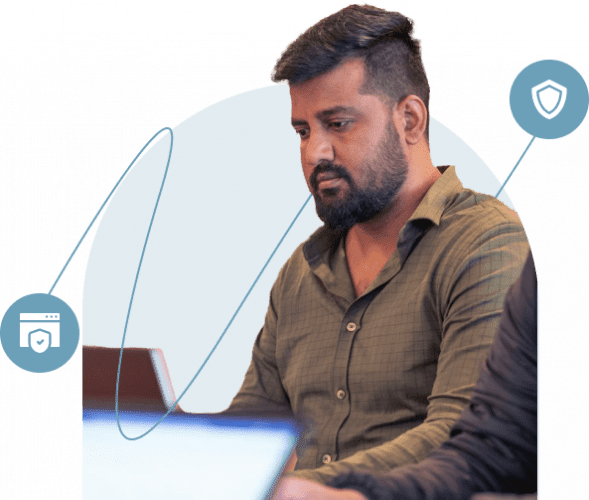 Clinicians, staff and carers can now collaborate in real time and measure outcomes at the touch of a button.

Full legal compliance
Using embedded forms and processes, you'll be able to meet legal compliance and demonstrate best-practice standards of service delivery. CTARS regularly consults with NDIS, governments and industry practice leaders for updates.

Easy to learn
With only minimal training, you will quickly be a CTARS expert. We provide recommendations and customised training, but the intuitive software automatically adapts to your individual needs and refines itself for new and existing employees as they go.

Customised to your business
Your business is unique. That's why we provide custom implementation for every new client to make sure CTARS matches the way you do business. This gives you greater control over client management than any other software.
Flexible pricing for each client
Administration-only clients
Add potential or admin only clients and pay nothing for them until you start delivering services.
Support coordination & plan management clients
For clients who you're providing support coordination or plan management services to.
Community based support clients
For community-based support, day programs, foster care, respite, in-home sleep over support and allied health.
Staffed accommodation clients
Suitable for clients where you're providing full-time or temporary accommodation with on-duty staff.
Designed by care providers
Designed and built by clinicians and human services staff, CTARS is built to solve the problems providers face with other client management systems. We understand your pain points. CTARS uses workflows, forms, language, and thinking that knows your services and the challenges that come with them. Whether you need an NDIS software or for any other care platform, CTARS makes your business processes more efficient and transparent for employers and employees.