What is the purpose of NDIS registration?
To become a registered NDIS provider, providers go through a registration process that involves demonstrating compliance with the NDIS Practice Standards and other requirements. It also includes submitting an application, providing relevant documentation, and undergoing an assessment of suitability.
The purpose of registration is to be able to deliver more comprehensive supports and services to NDIS participants. Furthermore, it is easier to demonstrate you have met strict quality and safety requirements while being more visible online through the NDIS Provider Finder tool, which can help you find more clients as a care provider.
While registration is not essential for NDIS providers, unregistered providers still have certain obligations. They are also bound by the NDIS Code of Conduct and have other processes in place to ensure a high quality of care.
What services can unregistered NDIS providers deliver?
Some of the services unregistered NDIS providers can provide include:
Getting domestic help, food preparation, everyday tasks, household tasks and personal care.
Transport for recreational, vocational and educational reasons.
Assistance with community participation including camps, classes, holiday activities and individual skill development.
Home modifications such as elevators, rails, ramps, kitchen and bathroom modifications
Personal training, exercise, dietician consultation and more for improved health and wellbeing.
Therapies such as physiotherapy, speech, occupational therapy and support programs.
While unregistered providers can deliver a range of supports and services to self-managed or plan-managed NDIS participants, there are some services they cannot provide, including:
Supports and services where there is likely a need for a regulated restrictive practice.
Specialist disability accommodation.
Specialist behaviour supports involving support assessments and behaviour support plans.
How do unregistered NDIS providers get paid?
Unregistered NDIS providers may not be able to access NDIS funding directly and get paid slightly differently. In the case of self-managed participants, they can pay the provider directly and then make a claim and get reimbursed by the NDIA. Additionally, they may also apply for funds and then transfer payments to the provider. For plan-managed participants, payments are usually made from the Nominated Plan Manager who will utilise the funds appropriately.
What are the benefits of being a registered NDIS provider?
Registered NDIS providers usually work with support coordinators and plan managers to offer participants a comprehensive range of supports. Becoming a registered NDIS provider comes with many benefits. Some of them include:
Delivering supports and services to a wide range of participants.
Being able to market your services with an advantage.
More visibility online through the NDIS provider finder tool.
Access to online business systems and tools to manage service bookings.
Faster payment processing.
Access to NDIS process changes and tools you need to train staff.
Access to the NDIS Commission's training modules.
The NDIS has a public registry for registered providers, so participants are able to make informed choices based on their needs. Unregistered providers are not included in this and will miss out on the opportunity to deliver services to those who are not comfortable deviating away from the registry.
What are the compliance requirements for NDIS providers?
Providers delivering NDIS supports and services must comply with certain guidelines and standards the NDIS Commission sets. Some of the compliance requirements include making truthful and accurate payment claims, keeping accurate records, providing a high quality of care, worker screening, training workers and more.
NDIS providers who are repeatedly non-compliant may receive penalties and may risk a suspension of their registration. In some cases, banning orders may be put in place to restrict certain activities from being conducted. A thorough investigation will also ensue and the provider may risk being put out of business all together for non-compliant behaviour. An NDIS software can help providers ensure compliance by following stringent management and reporting processes.
How can I become a registered NDIS provider?
In order to become a registered NDIS provider, you will need to follow specific steps. These include setting up and registering the business, identifying participant groups to deliver services, identifying service areas, choosing registration groups, completing worker screening checks, integrating complaints and incident management systems, applying for registration, passing the quality audit, passing the suitability assessment, receiving the registration certificate, maintaining compliance and more.
It can be a complex process due to the sheer number of things you need to consider. Read our article about how to become an NDIS provider to find out more.
In conclusion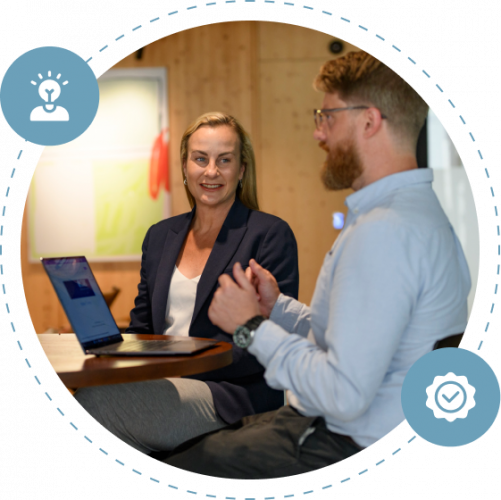 While registration is not mandatory, it can certainly make it easier to deliver a range of supports and services, to access funding and to be able to reach out to more NDIS participants. The additional support can also help providers reduce the risk of making mistakes with funding. Compliance with registration requirements also ensures individuals with disabilities have access to more supports and services that meet their needs.
Keep in mind that an NDIS software tool will already have a range of features to help you comply with the conditions of registration, making it easier for your business.
Whether registered or unregistered, maintaining compliance with the NDIS Code of Conduct and NDIS Practice Standards is mandatory for all providers. You also need to ensure you are on top of client information, goals and plans, reports and much more, which can be complex.
In order to do this well, you may want to consider a client management software such as CTARS that provides automated compliance with NDIS regulations. Our software provides detailed reporting, incident management, recording, medication management, shift reporting features and much more to simplify the way you run your NDIS business while remaining 100% compliant. To learn more about how CTARS works, ask for your no-obligation demo today.